Octopus Creek Hot Springs, located on the east shore of the upper arrow lake, in the West Kootenays This small warm spring (which may have been hot years ago ) at this point, you're not missing anything if you opt out of the challenge of looking for this one. Other than the thrill of the hunt. This is not for the inexperienced you'll need all your hiking skills for this one.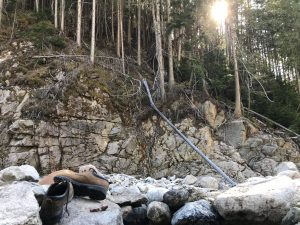 To get to Octopus Creek Hot Springs, you're going to want low water because The spring lies in a creek bed. Going in the spring or early summer is probably not your best bet. It's an excellent six-hour round trip to get to Octopus Creek Hot Springs. These Springs have a low mineral content that is said to have the highest fluoride content around; with some work, the springs could be made into something. The only problem is the treacherous hike up the creek bed in a very narrow ravine to get to them. Years ago, you could use the Applegrove Road is the main access road to Octopus Creek. (and has been gated and closed for a few years) 2.4 km south of the turnoff to Taite Creek Recreational site. 3.4 km from the old trailhead to the Springs.
The reason for the closure is a land dispute. Boat access from Octopus Creek Recreational Site is still open and is likely the recommended route.
our location is spot on; happy hunting




History:
Octopus Creek initially appears on a map in 1900, on W.A. Brock's West Kootenay Geological Survey sheet 791.
"Forslund, who was typically captain on the SS Rossland, reported that one day coming up the lake, some inebriated passenger observed a stump floating upside down, and raised the cry that there was an octopus in the water!" said the late Bill Laux of Fauquier, citing Capt. Albert Forslund's grandsons. Of course, everyone rushed to the rails to take a look. That's why it was given the name Octopus Creek."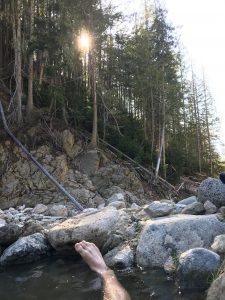 Nobody knows whether it's true, but it's a narrative at the very least. If this is correct, it happened between 1898 and 1900, when the Rossland was launched. It's not such a far reach to equate an upside-down stump to an octopus. However, a simpler explanation could be found in the creek's number of forks: eight, or possibly nine, depending on how you count them.
In 1949, the name Octopus Creek was officially approved. It's also the name of a forest route, a recreation area, and the secluded hot springs.
The book Just Where Is Edgewood states "Dec. 15, 1919: It had been a very cold winter with the lake frozen except where 'Fly' Creek (now Octopus Creek) emptied into the lake."
Photos By @sweet_pea_steve