53.449896, -128.568248
Considered by many to be the nicest hot springs in the area, Shearwater Hot Springs (also known as Europa Hot Springs) Conservancy is located along the north side of Alan Reach in Gardner Canal, on the north side of a small bay between Shearwater Point and Europa Point. It protects popular marine hot springs and sheltered boat anchorage sites along Gardner Canal. Local boaters and fishermen commonly stop at Shearwater hot springs for hot springs soaking, safe anchorage, picnics, and camping. There are no roads or trails in this area.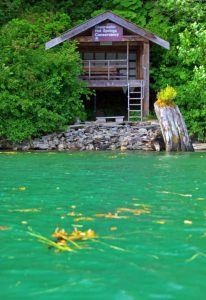 Bath House
A bathhouse (13' x 14') is provided so that park visitors may enjoy soaking in the warm and odorless hot springs water. The hot springs water comes out of the ground from cracks in the bedrock at the bottom of the hot springs pool. The pool has been blasted out of the rock, and It flows out at a rate of about 7.1 liters per minute. Water temperature at the source and in the bathhouse pool is about 40.6 degrees Celsius. The hot springs and bathhouses are located along the north shore of the bay. UTM coordinates are Zone 09U; 5922456 m North; 0529202 m East.

Mooring Buoys
In April 2010, BC Parks with the help of the Canadian Coast Guard installed two mooring buoys in the bay.
This error message is only visible to WordPress admins
Error: Cannot retrieve posts for this hashtag.